When I've watched DIY shows and home organization shows on television, they always seem to be geared towards people that have a great deal of extra income that they can spend on materials to organize their homes with. Every time I open up Better Homes and Gardens, I check how many children the families in the magazine have. Usually, I find they have 0 or 1 child. Once in a while, they'll feature a home where 2 children live. But, again, the families typically live at an upper middle class income level. But, I think the reality for many of us is that we can't afford to live that way--our homes don't look like the ones in the magazines and tv shows--especially if we've made choices and sacrificed a second income so that we can stay home with our kids.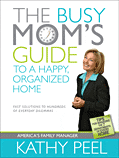 When I requested this book for review, I was curious, but expected it to be pretty impractical. Instead, I discovered that it is a wonderful book packed full of very practical tips. Kathy Peel and her husband raised 3 boys who are now grown adults. She says early on that she gleans tips and advice from all the women she has known in her life and come across. I liked that. (A few months ago I reviewed a book by a woman who wrote a book of advice for working moms though she hadn't been one when she wrote the book.) Sometimes it seems that advice givers can come across as very prideful as if they have all the answers. There is a blessing that comes from learning from one another!
In the book, Ms. Peel tackles seven areas of home management: time and scheduling, home and property care, menus and meal planning, relationships with family and friends, finances, special events (including holidays and birthday parties), and taking care of yourself.
For the most part, her tips are practical and useful no matter what the income of your family is. A few of them are only practical if you do have extra disposable income, but it's a relatively small number of things (ie. in the section about yourself, she mentions both getting a massage and a facial in a questionnaire). Most of her tips are realistic and frugal. For example, she mentions washing the area where ants are coming in with straight white vinegar. She also lists cleaning tips that can be done overnight with regular household items like vinegar and baking soda. A lot of books like this include tips that are very labor intensive and the time used outweighs the money saved. This book, on the other hand, includes tips that are very doable and wise, in my humble opinion.
I know that I will be coming back to this book again and again. She has organized lists of what to do to care for your home each season. She also has lists about appliances--how long their life expectancy is and even advice on how to choose new ones.
The section I am usually most curious about is menus and meal planning. Her tips are especially practical for moms who work outside their homes. I agreed with most of her advice, though I don't do as much freezing and cooking ahead. My family likes a lot of variety and I cook breakfast 5 mornings a week since my kids are not fans of cereal. But, that's how it is with any book--you are the best judge of advice that will work for you and your family. There is no one size fits all solution to organizing your home and life. But, I love to read new ideas because they renew my hope that I can get on top of things or be successful tackling something I've been struggling with.
Here's a sample of tips that really stuck with me from the book...
On Time Management...
"When you say yes to something, you're saying no to something else. Don't let it be your family." p.3
On Cleaning...
"Use a wide, soft-bristled paintbrush to remove dust from blinds and pleats in a lamp shade." p.48
On Cooking...
"Boil a few slices of lemon in a pan of water for 20 minutes to clear the air of burned food odor." p.57
On Baking...
"When coating a baking pan with flour, use an empty spice jar (the kind with holes in the lid) to shake it neatly into the pan." p. 123
On Celebrating...
"Don't wait until you have enough money to plan the perfect party. If something is worth celebrating, it's worth celebrating no matter how simple the event." p. 219
On Finances...
"Everything you have is a gift from God.... Managing money is not about the money. It's about how you view money...The joy of a purchase made on credit usually doesn't outlast the payments." p.195
This sample is just a smidgen of the great ideas I read in this book. Kathy Peel truly has packed this book with lots of great advice. It's perfect for someone starting out on their own, newlyweds, or people that love ideas about how to manage life better. It's full of good reminders even if you are a pretty organized person. I do highly recommend this book!
Please note that I received a complimentary copy of this book for review.