This weekend we got some disheartening news. We had been hoping to move but a very forthright and honest realtor sat down with us and showed us how much we'd really have to come up with to make up for the short fall in order to sell our house. Our plan in moving was to have my mom move in with us. It seemed the wisest plan. But, after consideration, we realized she will be able to buy a small home in our neighborhood when she sells her home this year. With all this in mind, we realized that we needed to make our home as liveable as possible and do a few things we'd been putting off. One was to purchase bunk beds for the girls. In the process of looking for a set of bunk beds, I learned several things along the way.
Bunk Beds
Comparison Shopping
IKEA Wooden Bed
IKEA: White metal frame $149 includes a mesh net to go under the bed; the natural wooden frame is $159 and includes slats The white one felt okay, but a straight ladder and if you scratched the metal, the paint would be hard to touch up. The wooden frame feels very unsteady and I wouldn't recommend it.
Walmart: Pine basic bed $189 Seemed to be pretty thick, but I didn't see a full size model
BJ's: darker wood, all wood bunk bed $249 It has two drawers underneath that will roll on hardwood floor. So, that makes it a good value. It felt sturdy and simple. It would be a great choice for boys.
Costco: White Bayside Brianna Bed $499 Very girly. It's perfect for my girly girls, but I'd never put boys in it. It will convert to nice twin beds someday. It is made of wood so I will be able to touch up the paint. It also has an angled ladder (which is what my husband wanted) that hooks easily and is easier and safer to climb up, according to my husband.
Room Store: $800 for a natural wood bed with a ladder that is angled, their $399 bed requires you to climb up the side of the bed (no ladder). No one helped me or even said a word to me when I went in the store, so I really don't know much about the bed except that you also need a bunkie board under your mattress and I'm not sure if slats are extra.
Brass and Oak: Three bunk beds can be ordered for girls. A very basic one for $349. Two nicer white ones are available for $649 and $699. All of these beds need to be ordered so they will take time to come in. But, they were nice. The $349 model looked cheap though and not as sturdy. I don't think I'd recommend it.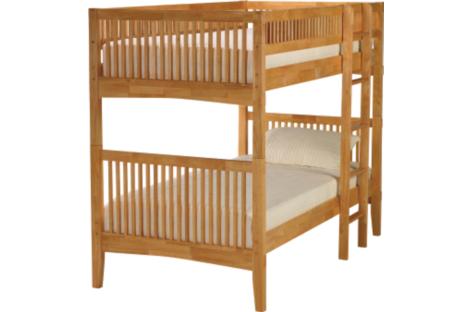 Value City Furniture: Basic Arts and Crafts set: $399 plus bunkie boards, plus delivery, etc. It didn't feel that much different to me than the $249 set at Bj's. It is more finished in its look, though. Looked and felt very nice. It has an up and down ladder.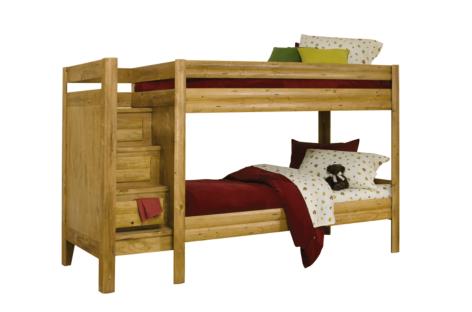 There is also another option at Value City which is the Camp Granada which is $599. It's very simple and rustic looking though.
I ended up choosing the Bayside Brianna set at Costco for $499. The slats are included. Here is a picture of the one we got in my girls room.
The girls honestly are thrilled with it. You'll notice that it looks pretty tall. It is! I had no idea when I bought it and that is my first piece of advice.
Check the height of the bunk bed and go home and try and picture it in the room you're going to put it in. There are advantages and disadvantages to both short and tall bunkbeds.
Tall
(like ours)
Advantages:
I can sit on the bottom bunk and read comfortably to Sami and can give her a big hug. All the kids and I will be able to sit and read together on the bed without me bumping my head.
Disadvantages:
It is tall so it is harder to read Autumn. She doesn't mind it all. I moved a step stool near her bed so I can still reach up and rub her back once in a while the way my mom did once in a while when I had a hard time waking up as a little girl. If I sit on the top bunk, my head does almost touch the ceiling. I am 5'5". But, my daughter is tiny and she won't outgrow it for a long time.
Short
(like the wooden one from IKEA that a friend of mine has)
Advantages:
Lots of head room on the top bunk. Not as high to fall from.
Disadvantages:
Child on the lower bunk might bump their head and you as an adult might as well. My friend who has the IKEA one can't sit on the bottom bunk. There also isn't as much storage room under the bed and with a small room, you usually need that.
There are medium in between bunk beds. If I were giving someone advice on choosing one, I would say
1) Measure your space
2) Go see and sit on several. Sit on the bottom bunk and make sure you can sit with your child if that's something you want to be able to do. Really only one person is allowed on the top bunk at a time anyways, so it only needs to be able to fit your child that will sleep there.
3) Shake them and feel how sturdy they are--consider if you're putting them on carpet or hardwood floors and how that will affect them. (Also consider how boisterous your kids are ;) ).
4) If you have the option of letting your kids have some say, check to make sure they'll like them before you buy them. Although I regret buying such tall bunk beds, my daughter didn't like any of the others as I went to find the pictures of them to post on this blog. I'm thankful that she is so happy with her top bunk.
And then there's the Mattress...
That's a whole other matter, really. I was puzzled about what to do on this one. I bought Autumn a $90 mattress from Bj's two years ago and have always regretted it. I thought it was made wrong. I didn't realize a huge thing that changed about mattresses about 8 or 9 years ago.
Mattresses are no longer 2 sided/flippable! On the bottom now, is a flat surface. It's like this on all new mattresses whether expensive or cheap. When I asked one mattress store if it was because the mattress companies were trying to save money, he just laughed off my comment. When I shared this observation at a second mattress store, he explained to me that the material on the bottom didn't wear well being on top of the box spring and there were a lot of warranty claims because of it. So, the practice was changed. I'm sure they gave another reason at the time, but my observation had some truth in it after all.
Back to the basic mattress and our bunk bed. I wanted something a little better. Costco carries a twin mattress for $149 and Bj's is $89. Basically, they're pretty comparable. When I went to Mattress Giant, I sat on two mattresses. One like what Autumn has had and another just a little nicer--that also cost $144 more than the one she had.
Here's what I really didn't know. Mattress stores are negotiable. The way car salesmen used to be--that's how mattress salespeople are. So, shop around! Go sit on a few (if you have time) and always remember the prices you've been quoted from one store to another.
The deal I was offered at Mattress Giant on a mattress that was ($360 for a set) $240 for mattress alone. The salesperson offered 15% more off when I said I was going to buy 2. I didn't end up buying them because I couldn't find the store that had them in stock. I ended up at another shop: Mattress Warehouse.
I bought 2 of these mattresses. I didn't get as good a deal as I had thought based on the website, but it was the price I was going to pay at the other store. Actually $10 less on the total after tax.
Here's where the web can be a negative thing. There's only so much shopping around that's wise. There will always be a better deal. Settle on a price in your mind that you're willing to pay and then don't check any more after that. Otherwise you're going to get discouraged like I just did by looking on their website. I didn't get ripped off or anything, but I probably could have negotiated a little better price. But, really, who knows?
I do feel like that was the shop I should have gone to and that God had his hand in it. I talked to the couple who worked there who had been married for 50 years and the young fellow who's just about to get married. Me and my big mouth I couldn't keep my mouth shut. I'm not sure how but we all were talking about marriage and the challenges of it--how it is both the source of struggle and joy. But, that it is God who holds my marriage together at the end of the day. I am certain of that. In any case, as I loaded the mattresses into my van, the young man looked at me and genuinely said to me that he was glad that he ran into me that day. God had his hand in that, I believe ;)
So, now I have a bunk bed and two mattresses, but there's one thing I forgot to mention. Before you purchase mattresses, make sure you know how tall the mattresses can be for the bunk beds you have or are planning to purchase. The ones I bought are just right. But, if they were any taller, they'd be too tall. Autumn's new mattress is 9" tall. Her old one was 7", just to give you an idea.
So, that's about it, I think. I hope that this post will save you a little shopping and help you figure out what you'd like to get for your kids.
At the end of the day, I do regret spending so much. I wish I had gone with the Bj's bunk beds for less and only bought one more mattress. But, then I'd probably be regretting things in the opposite direction ;) I tried to go for a middle of the road bunk bed and mattress. Not too cheap and not too pricey--both for the bunk bed and mattress.
I did forget to mention one last and very important thing--Bed Bugs! One friend mentioned an ad from Big Lots to me with a plush twin for $159. I mentioned to her that I was concerned about bed bugs and not sure what to think about Big Lots because I didn't know where their mattresses came from.
When I was at Mattress Warehouse, the salesman did tell me that a fellow came in who had bought a mattress that was sealed in plastic (as all are), took it home, opened it up, and found bed bugs in it. Eww!!! Yuck!!! He explained to me that though warehouses won't accept returns on mattresses, sometimes stores will and then they resell them as comfort models. I would also be careful about where you go to try out mattresses for the same reason. I just wanted to pass that last bit of information along, as yucky as it is.